Those looking for a convenient way to transport their drone from their home to the airfield should definitely consider investing in an excellent drone backpack. There are many excellent drone backpacks on the market, but the Aviator has definitely become one of my favorites. This product is very versatile, totally comfortable and surprisingly sleek. I have worn it for many hours and it has always remained comfortable. Below, you will learn about the best aspects of this backpack.
The Backpack is Waterproof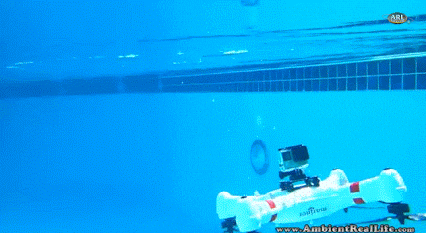 It is no secret that water does not mix well with electronics. If your drone or laptop becomes submerged in water, it is highly likely the electronics will be destroyed. With this in mind, it is pertinent to equip yourself with a good backpack that will protect your drone from rain and water. This is where the Aviator Drone Backpack truly excels. The exterior fabric is specifically coated to make it capable of repelling water. The backpack also comes with a fold-out protector. When the protector is put in place, it will keep the water outside and ensure the interior remains dry!
Most drones fit inside

While some backpacks are capable of carrying a wide variety of drones, the protection they deliver may be limited. This is not the case with the Aviator Backpack. This product is specifically designed for the DJI Phantom line of drones. It works with the latest Phantom 3 and 4, as well as the older models. It provides these drones with more protection than what is offered by the alternatives. And of course, the backpack also provides space for a camera and a laptop.
Interchangeable Dividers
The Aviator Drone Backpack is very versatile and this is mainly because of the interchangeable dividers. I can rearrange the dividers to create a custom fit for some of my drone accessories. I remove them to create a roomy space and add them, when I only need compact spaces for small accessories. This allows me to keep everything all need and organized, so I do not have to spend extra time searching for specific items. By creating the perfect size compartment, I never need to worry about the small components shifting around during use.
External Connections Tripod
A tripod can take up a lot of space, especially if it is stored inside of the backpack. To make things easier and give you more room, the backpack is equipped with an external tripod connection. This allows you to attach the tripod to the outside of the backpack. The connections are very durable and capable of holding the tripod in place, even under extreme circumstances. Once you put the tripod into allotted space, you can secure the cover using the zipper.
My Favorite Features
* Has a compartment for a laptop or a tablet
* Space for accessories, such as a camera
* Fits DJI Phantom Drones perfectly
* Equipped with a secure external connection for a tripod
* Weighs just 67 ounces
* Protects from water
* Comes with a 5-year warranty
Final Thoughts..
All in all, I absolutely adore the Aviator Drone Backpack for my DJI Phantom Drone. The backpack is very comfortable, even when worn for long periods of time. It is sleek and will look great with any wardrobe. Above all else, the backpack will most certainly keep your drone and other items secure and safe. For the price, the Aviator Backpack is certainly a good investment.